A Letter from Our President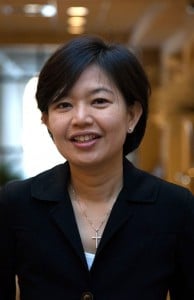 Dear Friends,
When our son was born my husband, Chris, and I knew something was wrong right away. We received the news that he had Down syndrome and I remember being devastated. Of all the disabilities, a cognitive impairment was the one I feared the most, as at that time, I valued intellect above all else.
I remember praying for a miracle with my husband, that our son would be "cured" of Down syndrome. And our prayers were answered, but not the way we had imagined. Instead we were the ones that were "cured" – cured of our blindness to prejudice and disability. I learned to see and appreciate the gifts that my son had and was transformed in the process.
Fast forward to today — the little infant is now a young adolescent, included in our neighborhood school and local community. Life with him is not without challenges but he has a "joie de vie" and a love for life that is unparalleled. Our hope for him is that he'll continue to be a valued, contributing member of our community, surrounded by friends and inspiring those around him to make the world a better place.
The 3-21 Foundation was founded because in the pain of those early years we found new friends in the same circumstance, and realized we had been given the opportunity to do something great – a chance to help people with cognitive disabilities overcome their challenges so they can be all that they are meant to be.
If you've found us online and have read this far, it's probably because you share this desire. Join us on this journey to empower people with Down syndrome so they too, like the rest of us, can pursue their dreams.
Julie Messina
President | The 3-21 Foundation, Inc.
Send a message to Julie.