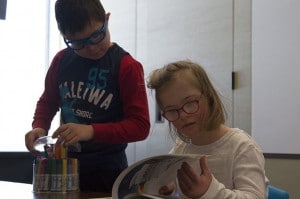 The 3-21 Foundation and the Massachusetts Down Syndrome Congress (MDSC) are pleased to announce that the Learning Program Boston will transition from the 3-21 Foundation to become part of the MDSC's Center on Inclusive Education as of July 1, 2022.
Since 2012, the MDSC and the 3-21 Foundation have collaborated to develop best practices in educating students with Down syndrome. Our joint-programs have included educational workshops for parents, academic classes for school-aged children, webinars for educators and other educational-related offerings. Additionally, the 3-21 Foundation has been awarded an annual grant from the MDSC for each of the past ten years to support its educational programs & services.
The MDSC that has been a leader in the field of inclusive education for many years. The Center on Inclusive Education is one of its four Centers of Excellence, offering resources and the most accurate and up-to-date information to support students with Down syndrome in school. It is proud to be able to incorporate the Learning Program Boston to expand its educational service offering.
The 3-21 Foundation's mission is to promote advances in education and cognition for people with Down syndrome. One of the ways it has done this is through the Learning Program Boston, a parent-focused educational intervention program for sharing instructional strategies, resources and activities to improve academic outcomes for students with Down syndrome. An affiliate-partner of the Learning Program™, a nationally-recognized model for parent-focused intervention developed by the Down Syndrome Foundation (Orange County, CA) this program is grounded on evidence-based approaches to teaching students with Down syndrome established by world-recognized leaders in cognitive research.  With the transition to the MDSC, the Learning Program Boston will come under the guidance and leadership of an organization with greater resources and leverage. This will position the Learning Program Boston to meet the growing needs of Massachusetts families seeking educational support for their children with Down syndrome.
The MDSC will be opening registration for the Learning Program Boston in August 2022. Parent workshops will track the academic calendar, beginning in September 2022 and will run through the end of May 2023. While the program will begin virtually, the MDSC plans to re-initiate in-person programming depending on the climate of Covid-19.
The 3-21 Foundation will work with the MDSC as-needed to ensure a smooth transition. It will continue its work with Massachusetts schools through its educational consulting practice as well as its work in cognition for people with Down syndrome. To further its efforts in education and cognition, the 3-21 Foundation will be prioritizing its work in advocacy with a renewed emphasis on protecting and promoting the rights of individuals with Down syndrome.
For more information please contact:
Carlyn Foreman, MDSC Education Director, [email protected] or
Julie Messina, 3-21 Foundation President, [email protected]
——————————————————————————————————————–
For Families Outside New England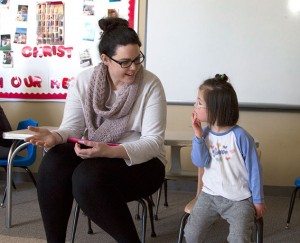 For families unable to attend our classes in Boston, please check here to find a Learning Program in your area. We currently have affiliate partners in over 20 locations nationally and internationally.
Alternative Online Option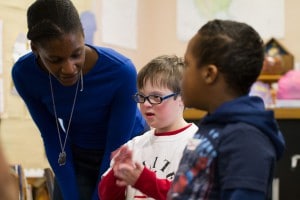 LP Online™ is an online educational community, hosted by our affiliate partner, the Down Syndrome Foundation (Orange County, CA) that utilizes webinars to replicate the parent workshop portion of our face-to-face onsite program. Participants join live workshop sessions in real time or can access recorded sessions later at their convenience.  LP Online™ extends the Learning Program to families who do not have an affiliate partner in close geographic proximity and/or who are unable to enroll in their local Learning Program due to conflicts or extended wait lists.  LP Online™ serves families from all around the world, and provides an opportunity for participants to engage with an extended Down syndrome community on educational best practices.
Interested in purchasing books and materials? Order Learning Program books & materials here.